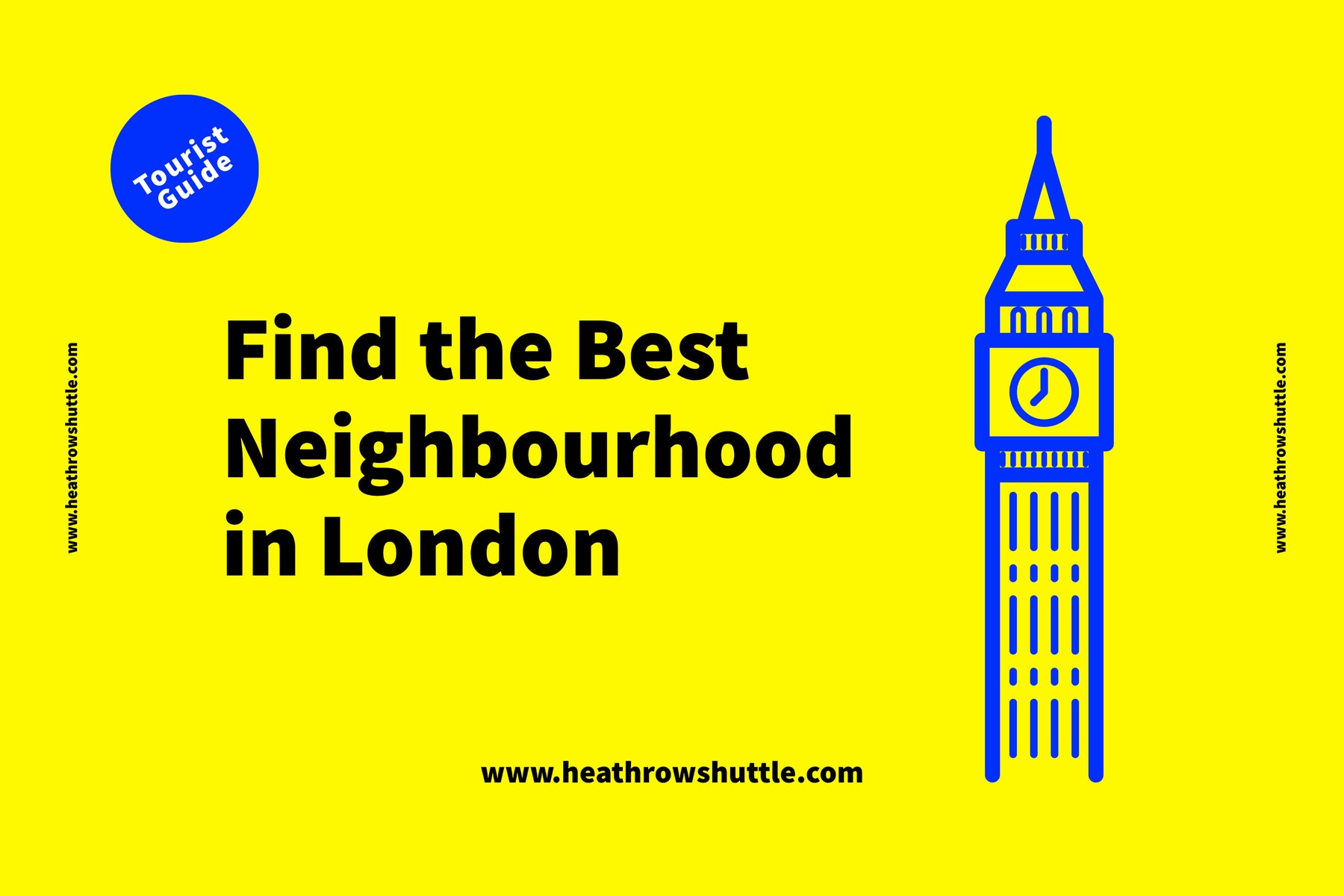 Find the Best Neighbourhood in London
Find the Best Neighbourhood in London city on your next trip to London. 
Neighbourhood in London for Sightseeing: South Bank and Bankside
When it comes to sightseeing, South Bank and Bankside are great for getting to major sites like the London Eye, Tate Modern, and the Shard, and the City of London has its fair share of iconic sights as well, but both offer limited lodging options. South Kensington is a fantastic place to visit for museums and shopping, but hotels may be expensive. Because of their closeness to the Thames, Westminster, and other major attractions, Covent Garden and Soho are ideal all-rounders, and abundant lodgings are a plus.
Neighbourhood in London for Nightlife: Soho
Soho is the finest nightlife district in London. A nice mix of contemporary cocktail bars (many of which also serve wonderful cuisine), classic English pubs, theatres, and basement clubs with DJ nights, including a number of LGBT establishments, can be found in the neighbourhood. In Soho, there are just a few hotels that are significantly removed from the activity. Camden, with its live music venues, and the East End, with its renowned clubs, are two more noteworthy nightlife districts.
Neighbourhood in London for Food and Restaurants: Covent Garden
Around Covent Garden, some of London's greatest dining can be found. The tight cluster of streets is densely packed with eateries ranging from low-cost Indian, Mexican, and Brazilian chain restaurants to premium fine dining and traditional pubs offering outstanding local cuisine. Covent Garden is a 5-minute walk between Chinatown and Soho, all of which are bustling with artisan coffee shops and international cuisine. The greatest Michelin-starred eating in London may be found in the hotels around Hyde Park. Street food is plentiful in Camden, the East End, and King's Cross.
Neighbourhood in London for Families: South Kensington and Marylebone
For families, South Kensington is one of the finest areas to stay in London. The area is very peaceful, and there are two excellent museums with a wide range of interactive exhibits for visitors of all ages. Hyde Park, just to the north, has playgrounds and, throughout the winter, the family-friendly Winter Wonderland. Another nice choice is Marylebone, which is close to Hyde Park, the London Zoo in Regent's Park, and Madame Tussauds, which is popular with older children.
Best Neighbourhood in London to Stay for First Timer: Covent Garden
If you're visiting London for the first time, Covent Garden is the finest place to stay. It's centrally positioned, boasts a vibrant food and theatre scene, and is close to several major sites such as the National Gallery, Houses of Parliament, and the London Eye. There are great public transportation connections to other sections of London, and it's simple to get around by boat along the Thames. There is also accommodation for various budgets.
Most Romantic Neighbourhood in London: Mayfair, Marylebone, or South Kensington
Mayfair, Marylebone, and South Kensington are full of charming honeymoon hotels, lovely restaurants, and romantic activities. With renowned 5-star hotels like The Ritz and the Connaught, as well as some of London's most famous restaurants like La Gavroche and Corrigan's Mayfair, Mayfair epitomises Old World richness and charm. South Kensington offers a trendy feel, good boutique hotels, and less formal eating, whereas Marylebone has a hip mood, superb boutique hotels, and less formal dining.
Best Neighbourhood in London for a Local Vibe: Camden
It's difficult to find a place that is more 'local' than Camden. Apart from Camden Market and the tour narrowboats on Regent's Canal, the graffiti-tagged, grimy streets still defy gentrification, and this is still a working-class neighbourhood. You never know who the next big thing in alternative music will be if you stop by Barfly, Underworld, or another neighbourhood bar. Brick Lane is known as 'Banglatown' in the East End, and it, like other sections of east London, has a distinct immigrant vibe, with curry places, Bangladeshi cafés, and sari stores.
Best Neighbourhood in London for Walking: Covent Garden/Leicester Square/Soho
The Covent Garden/Leicester Square/Soho area is very popular with pedestrians since it is made up of several little streets lined with restaurants, pubs, and stores, some of which are totally pedestrian-only, and there is very little traffic. It's in the centre of London's West End, so it's quite convenient. Trafalgar Square, the National Gallery, and the National Portrait Gallery are all close by, while the Houses of Parliament, the London Eye, and the London Dungeon (just across the river), as well as Westminster Cathedral, are all within a 15-minute walk of Leicester Square.
Buckingham Palace is a 15-minute walk west of Westminster, mostly via St James' Park and away from traffic. Covent Garden is a 20-minute walk north of the British Museum.
Safest Areas of London
The wealthiest areas in London are also the safest. Mayfair, South Kensington, Knightsbridge, Belgravia, and Chelsea are all quite secure to walk around at any hour of the day. Bloomsbury and Fitzrovia are likewise extremely safe, however care should be taken at night. Covent Garden is typically pleasant, although late on Saturday evenings, it may get rather busy.
Unsafe Areas of London
At night, parts of the East End, such as Hackney and Shoreditch, may be unsafe. While the King's Cross area has been renovated, the area surrounding the railway station is still run-down, and it's best to avoid going there late at night. Camden is safe during the day, but it has a bad reputation for robberies and violence after dark. Late at night, the Soho and Leicester Square areas may get rowdy, and Hyde Park is best avoided.