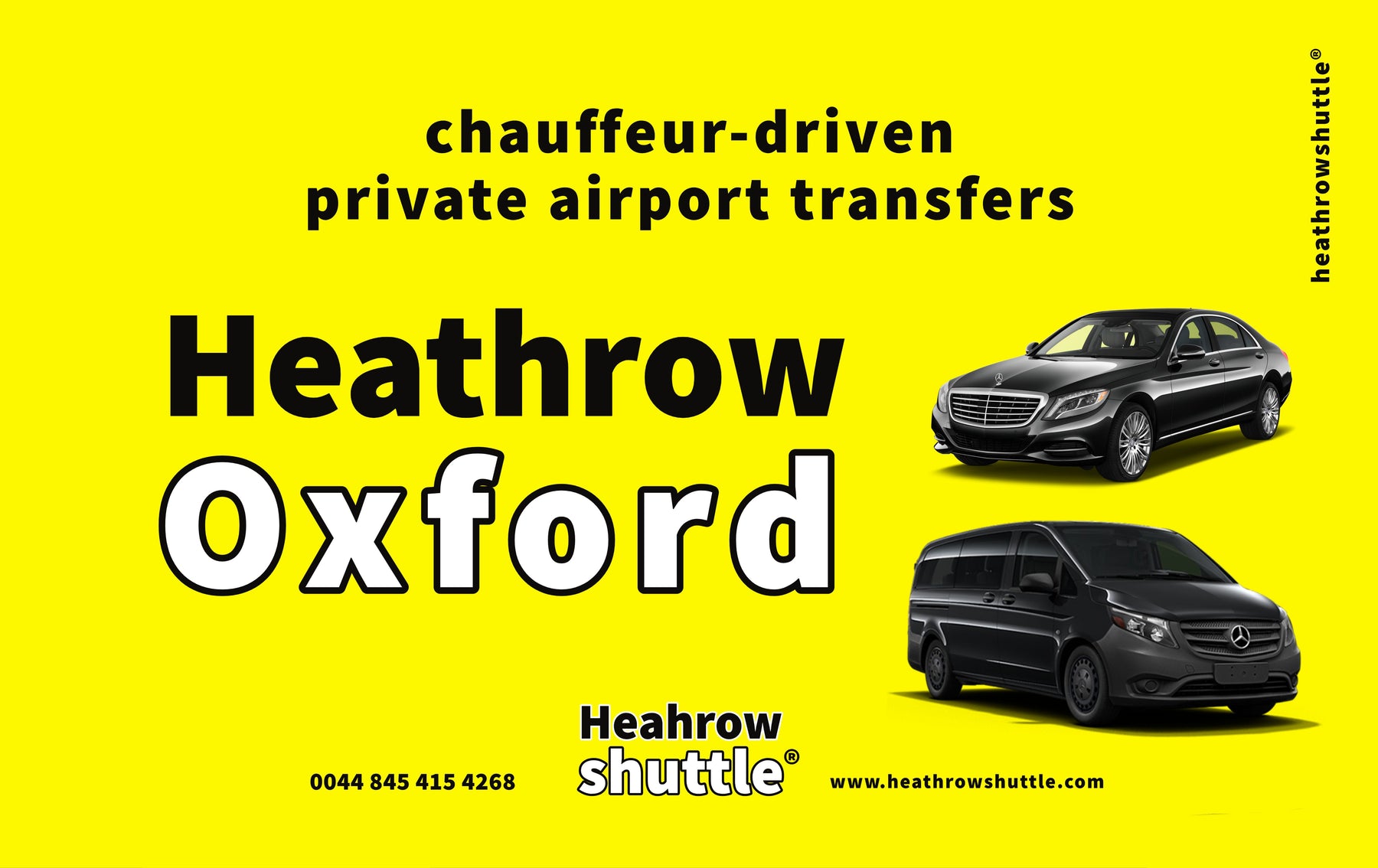 Airport Transfer Heathrow to Oxford
Airport transfer Heathrow to Oxford 24/7 from London Heathrow (LHR). Book online securely your airport transfer from London Heathrow to Oxford in advance and save up to 20%.
We provide chauffeur-driven door-to-door services between London Heathrow airport and the Oxford area 24 hours a day, seven days a week.
Using a private cab or chauffeur service, the Heathrow airport transport from London Heathrow to Oxford will take roughly 1 hour. You can travel in style and comfort without breaking the bank with our inexpensive airport taxi services between Oxford and Heathrow Airport. The quickest, most pleasant, and most efficient form of transportation from Heathrow Airport to Oxford is to take a private cab.
Airport Transfer from Heathrow to Oxford
Free Meet & Greet Service | Fixed Prices | No Hidden Charges | No additional charges for delayed flights | 90 minutes waiting and parking included | Door to Door Private Transfers
We will monitor your flight on the day of your arrival at London Heathrow (LHR), and our chauffeur will park 30 to 40 minutes after your flight has landed. Our chauffeur will meet you with your name board inside the airport arrivals lounge, assist you with your luggage and boarding, and when you are ready, our chauffeur will drive you straight to your destination in and around Oxford in a pre-booked luxury Mercedes Benz sedan or minibus.
If you are delayed inside the airport arrival terminal please inform us by call on 0044 845-415-4268 and we will keep your chauffeur waiting for longer if required.
Airport Transfer from Oxford to Heathrow
From Oxford to London Heathrow airport, travel in style and comfort in luxury Mercedes Benz vehicles with extra leg room and ample luggage space, with door to door chauffeur driven airport transfers.
Once you're ready, our chauffeur driver will meet you in front of your Oxford pick-up location, assist you with your baggage and boarding, and then take you directly to London Heathrow airport to your preferred departure terminal. When you arrive at the airport, our chauffeur will meet you near the main door of the departure terminal, near the luggage trolley area, giving you easy access to the terminal building.
Quick Links
Heathrow Terminal 2 to Oxford Transfer
Heathrow Terminal 3 to Oxford Transfer
Heathrow Terminal 5 to Oxford Transfer
Most Travelled Destination in Oxfordshire to and from London Heathrow Airport
Heathrow airport to Oxford University Transfers
Oxford OX1 2JD to and from Heathrow Airport
Door to door airport transfers to and from London Heathrow airport and Oxford University, special prices for University Students and Staff members. Book now online or call us today to get the best airport transfer price from Heathrow to Oxford University.
The University of Oxford is an English college research university. It was founded in 1096, making it the world's second-oldest university in continuous operation and the oldest in the English-speaking world.
The university is divided into four divisions and consists of 39 sub component colleges, 6 permanent private halls, and a variety of academic departments. Within the university, all of the colleges are self-governing institutions, each with its own membership, internal organisation, and activities. Every student is a part of a college. It's without a central campus, and its buildings and facilities are dispersed around the city.
Oxford – City in England
Heathrow Airport to Oxford City Centre
Oxford, a city in central southern England, is known for its illustrious university, which was founded in the 12th century. The city's 38 colleges in the mediaeval centre earned it the moniker "City of Dreaming Spires" by poet Matthew Arnold. The High Street, which runs from Carfax Tower (with city views) to the Botanic Garden on the River Cherwell, is home to University College and Magdalen College.
Oxford, dubbed "The City of Dreaming Spires," is known around the world for its university and historical significance. It has been a home to monarchs and scholars for almost 800 years, and it has been a thriving town since the 9th century, despite the fact that people have lived in the area for thousands of years. The city is now a thriving global metropolis. Its ancient University is still there, but it's also home to a burgeoning hi-tech community. Many enterprises can be found in and around the town, whether they are on one of the Science and Business Parks or in one of the many residential districts.
Best things to do in Oxford
Gloucester Green Town Square
Gloucester Green, Oxford OX1 2DF, UK
Gloucester Green Town Square is a good introduction to Oxford's notably pedestrian-friendly city core, as it is conveniently located to the long-distance bus station. An unusual collection of attractions surrounds the tree-lined paved area, including a few cafés, pubs, and restaurants, an ancient fire station turned cultural centre, and a cinema. The Gloucester Green market is held on Wednesdays, Thursdays, and Saturdays.
The Covered Market Oxford
Market Street, Oxford OX1 3DZ, UK
Open: Monday–Saturday from 8 am to 5 pm, Sunday from 10 am to 4 pm
Since 1774, the Covered Market has been in the centre of Oxford's shopping district, sandwiched between High Street, Market Street, and Cornmarket Street, all of which are known for their businesses. The stately historic edifice now accommodates more than 40 stalls. It's a fantastic spot to shop for presents, souvenirs, clothing, and food.
Look for Oxford sausages, which have a particular spicy bite, sold by local butchers. On Saturday afternoons, the market's compact rooms are very crowded, so arrive early or attend on another day for a more enjoyable experience.
Ashmolean Museum
Beaumont Street, Oxford OX1 2PH, UK
The Ashmolean Museum is one of the world's oldest museums, having opened its doors in around 1682. It all began when antiques collector Elias Ashmole donated his collection to the University of Oxford, which quickly expanded to include various galleries and departments. The Ashmolean Museum, like London's British Museum, is free and covers a wide range of topics, including antiquities from ancient Europe, Africa, and the Near East, as well as classical artworks from throughout the world and a remarkable coin collection. The Ashmolean Museum, which is also a short distance from Oxford Station, is a good place to stay.
Port Meadow
Walton Well Road, Oxford OX2 6ED, UK
Port Meadow is a 30-hectare swath of untamed English countryside located just west of Oxford. On a beautiful day, expect to observe wild horses, a variety of birds, and a large number of residents enjoying a picnic. During the summer months, if you haven't already stocked up on picnic munchies at The Covered Market, you can select your own fruits at Medley Manor Farm. Alternatively, you might visit one of the quaint country pubs that surround the park.
University of Oxford
The University of Oxford, one of the world's oldest universities, occupies nearly a fifth of the city. It consists of 38 colleges with a total enrolment of nearly 22,000 students. Many of the stately historic buildings are tourist attractions in and of themselves, earning Oxford the moniker "City of Dreaming Spires." The Sheldonian Theatre and the Radcliffe Camera are two of the many highlights. Take a stroll through the university's botanic gardens, and if you're a Harry Potter fan, pay a visit to the Bodleian Library, which was featured in three films. If visiting the University of Oxford sounds like something you'd like to do, book a hotel near the university.
Take a Punt
Magdalen Bridge, Oxford OX1 4AU, UK
Open: Daily from 9.30 am to 9 pm
A punt is possibly the most recognisable sight in Oxford. It's a flat-bottomed boat that's basically an English counterpart of an Italian gondola, except instead of an oar, it's powered by a long pole. They are available for hire at the Magdalen Bridge, on High Street's eastern end. You may either hire someone to perform the legwork for you or take a crash course and try it out yourself. When you walk out onto the River Cherwell, you can see many of the university's buildings and grounds, as well as numerous of the city's magnificent meadows and parks.
Afternoon Tea at The Randolph
Beaumont Street, Oxford OX1 2LN
Open: Daily from 7 am to 10 pm
Afternoon Tea is a centuries-old English ritual, and if there's one place in England that cherishes tradition, it's Oxford. There are a number of nice spots to grab a 4 p.m. drink and some sandwiches, scones, or cakes. The Macdonald Randolph Hotel is maybe the most famous. The luxurious drawing room of the tall gothic structure is the ideal venue for such a refined dining experience. Brown's at the Covered Market is a popular choice among locals for a less expensive option.
Oxford Castle
Open: Daily from 10 am to 5.30 pm
Oxford Castle has a long and illustrious history, with sections of it continuing in use today, while others were destroyed during the English Civil War. St George's Tower is one of the city's oldest structures, and it still offers spectacular views of the city centre. The crypt is around the same age as the church and has a spooky charm to it. The castle used to be a jail, but it has now been renovated into a hotel. The entire area is a jumble of English history, and a guided tour of some of the region's most significant events over the last 1,000 years is strongly recommended.