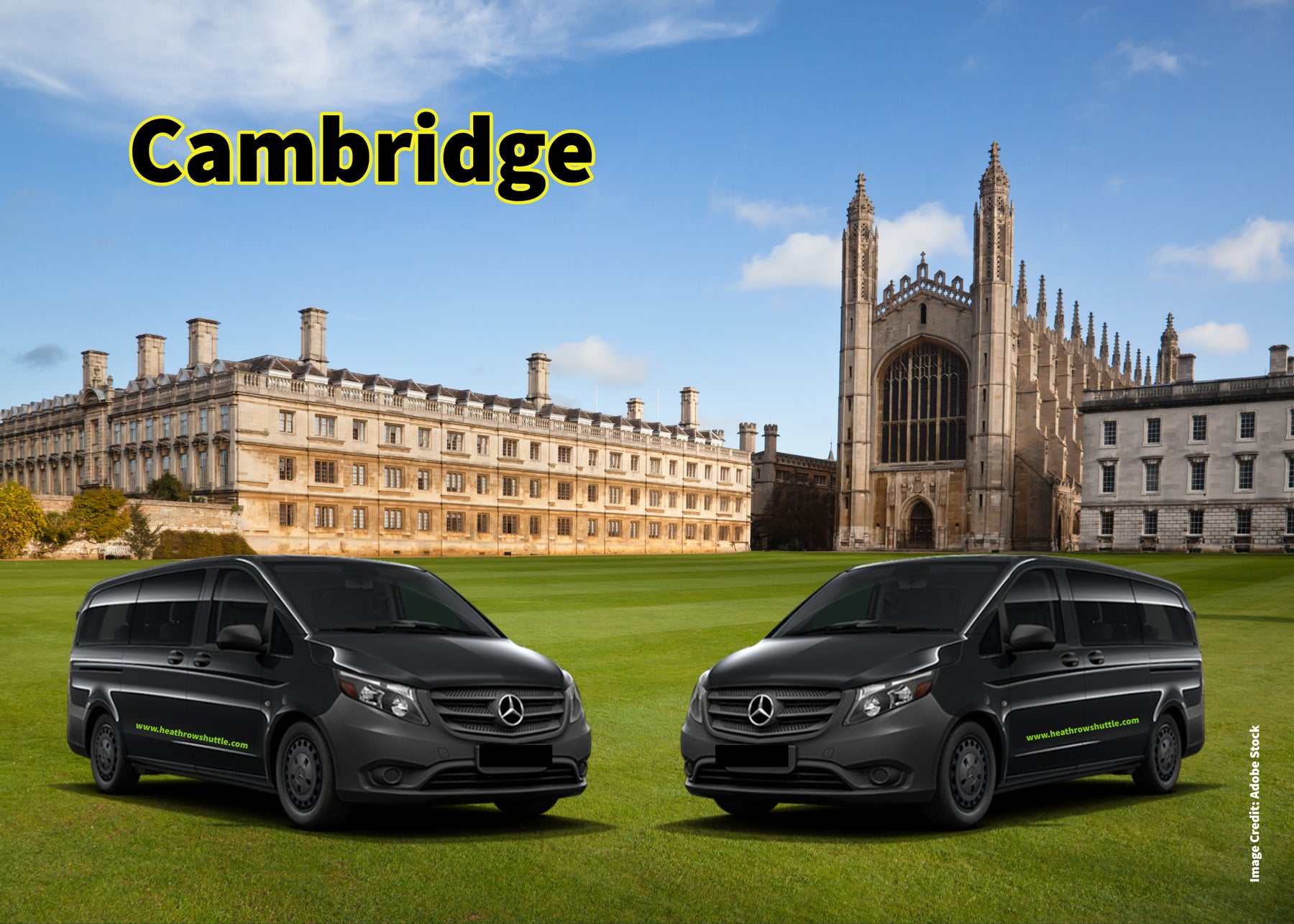 Heathrow Airport to Cambridge Transfers
Heathrow airport to Cambridge private transfer by Heathrow Shuttle – Book today your comfortable low-cost door to door private taxi transfer from Heathrow to Cambridge and save up to 10 to 20% on all advance bookings.
Whether you book online, by phone or by email, we guarantee to make your booking as quick and easy as possible, with instant confirmation. We are committed to keeping you safe and comfortable, so all of our vehicles are fully licensed and insured. We offer a wide range of vehicle sizes to suit your specific needs: Saloon Cars, MPVs and 8-Seater vans for larger groups.
You can easily book our vehicles at any time online and check out securely for your next trip from Heathrow to Cambridge City. Enjoy a hassle-free Heathrow to Cambridge city transfer.
Specialising in Group Transportation services to and from London Heathrow airport to any destination in the UK. We offer luxury Mercedes Benz minibuses for a convenient door to door transfer services from Heathrow airport to Cambridgeshire.
Simply book your vehicle online and we will take care of the rest for you. Free flight monitoring as standard, never pay anything extra for delayed flights. We are available 24/7 for your assistance from London Heathrow airport to Cambridgeshire.
Getting from Heathrow to Cambridgeshire
No waiting charge if flight is delayed, we monitor all flights.
90 minutes waiting & 90 minutes parking included
24/7 Customer service: web chat/email
Fixed prices - no hidden charges.
Free meet & greet - On time pick up guaranteed.
Modern, clean & comfortable cars, with latest GPS technology.
Polite & helpful drivers - safe, reliable & secure journey.
Free meet and greet services on your arrival at London Heathrow airport. Fixed Price door to door private taxi transfer to and from London Heathrow airport to Cambridgeshire. No hidden charges or additional fee.
As one of the few shuttle and private taxi companies that track flights, if you have booked your Heathrow To Cambridge Taxi and your flight arrives early, you will not be concerned as your Heathrow To Cambridge will be waiting for you. We provide fast and reliable Heathrow To Cambridgeshire transfers and private transfers 24 hours a day, 365 days a year. 
For Heathrow to Cambridge private taxi you do not have to wait in the queues at the airport to find your taxi from the airport. Our private taxi driver will greet you inside the arrival lounge with your name-board, our driver will help you with your luggage and will drive you directly to Cambridgeshire in a pre-booked luxury Mercedes Benz vehicle.
A private taxi transfer from London Heathrow airport to Cambridge with Heathrow Shuttle will take around 50 to 70 minutes and journey is around 40 miles.
Heathrow to Cambridge Private Taxi Transfer Cost:
Heathrow To Cambridge taxi services has come a long way to be rightfully acclaimed as the best modes of transportation. Taxis from Heathrow to Cambridge cost the least and are the most affordable. In every corner and nook, you can find a taxi that is affordable yet comfortable to take from the airports. In contrast to other public London airport transfers, the price of our Heathrow to Cambridge transfers starts at only £135.00*
Heathrow airport to Cambridge University
We offer special prices for students travelling between London Heathrow airport and Cambridge university. Ample luggage space for your extra luggage.
Flight Monitoring 
We monitor every arriving flight on the day. Regardless of your flight delay or early arrival, we will be there on time for you. Every time.
Waiting & Parking
Your chauffeur-driven door to door airport transfer includes 90 minutes of waiting time and parking after your flight has landed.
Meet & Greet 
You will be welcomed by your very own chauffeur upon arrival with your name board. He will assist you with your bags before walking you to your vehicle. Your chauffeur will serve as personal assistant on wheels.
Cleaning & Sanitization 
Prior to every job, we sanitize, vacuum and prepare our vehicles.