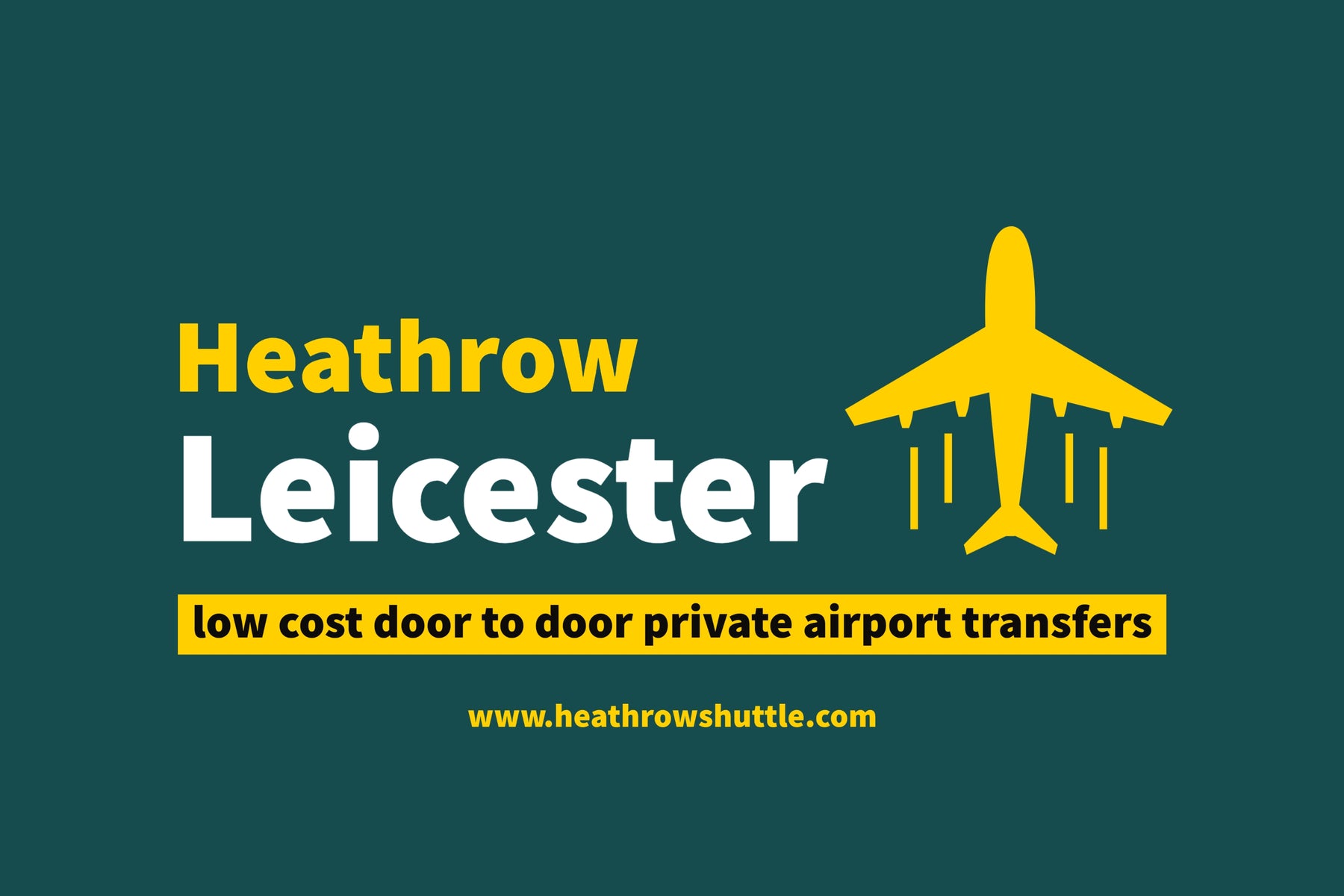 Heathrow Airport to Leicester City Transfers
Heathrow Airport to Leicester city Transfers with Heathrow Shuttle 24 hours a day 7 days a week.
The quickest, most enjoyable, and most efficient form of transportation from Heathrow Airport to Leicester city is to take a cab. From Heathrow Airport to Leicester City, a cab or car trip should take roughly 2 hours 15 minutes. We recommend adding extra time to your reservation to accommodate for traffic. The distance between Heathrow Airport and Leicester city is roughly 117 miles by cab or private taxi.
Included with any Leicester city Airport Transfer
Meet & Greet / Waiting & Parking / Flight Tracking included
Professional driver, clean car and reliable service every time
Book a transfer within minutes and pay online
Affordable fixed prices and value for money on each trip
Luxury Mercedes Benz Vehicles
24 hours a day, 7 days a week, we can pick up passengers from Heathrow Airport to Leicester city. Reservations can be made through our website or by calling us. To accommodate your demands, we provide a selection of vehicle sizes. Our prices are set from Heathrow Airport to Leicester city.
Are you looking for a way to go from Heathrow Airport to Leicester? We are experts in providing luxury airport transportation from Leicester city to Heathrow Airport, with prices starting at £175.00*. When you're driving to the airport to catch a flight or coming home after a long trip, transportation should be the last thing on your mind.
Heathrow Private Taxi Transfer to Leicester city
If you require a Heathrow Airport private taxi transfer to Leicester city, look no further because we are the ideal solution to your transportation needs - with a thorough understanding of the transportation industry, you can be confident that we will exceed your expectations regardless of your requirements. We can offer you with a dependable Leicester city taxi to Heathrow Airport at any time of day or night.
We provide services to and from Leicester city on a regular basis, and we are prepared to accommodate all types of customers, including solo travellers, families, small and large groups, and business users, who have come to appreciate our commitment and expertise in providing a safe and reliable ride from Heathrow Airport to Leicester city. Choose from a variety of cars and let our friendly drivers transfer you from Leicester city to Heathrow Airport in a safe and trustworthy manner.
As a solution, let us show you how you can rest easy knowing that your vehicle transport from Leicester city to Heathrow Airport will be handled securely and efficiently. With over 20 years of experience, we are convinced that you will become a regular customer of our Heathrow Airport cab service to Leicester city and enjoy more than just transportation.
  
Leicester City F.C.
Leicester City Football Club is an English professional football team headquartered in Leicester, East Midlands. The team is a member of the Premier Competition, England's highest football league, and plays its home games at the King Power Stadium.
Leicester Fosse F.C. was founded in 1884 and played on a ground near Fosse Road. In 1891, they relocated to Filbert Street, were accepted into the Football League in 1894, and in 1919, they changed their name to Leicester City. In 2002, they relocated to the Walkers Stadium, which was renamed the King Power Stadium in 2011.
Leicester Town History & Overview
Leicester is the county town of Leicestershire and a city and unitary authority region in the East Midlands of England. The city is located on the Soar River, at the National Forest's eastern edge. It is located to the north of Birmingham and Coventry, to the south of Nottingham, and to the west of Peterborough.
Leicester gets its name from Old English. It is initially mentioned in Latinised form as Legorensis civitatis in the early ninth century, and in Old English as Ligera ceastre in an Anglo-Saxon Chronicle entry for 924. (and, in various spellings, frequently thereafter). It is listed as Ledecestre in the Domesday Book of 1086.
Leicester is one of England's oldest cities, having a history that dates back at least two millennia. The Romans discovered a native Iron Age village at the site, which appears to have evolved in the 2nd or 1st century BC. Although roundhouses from this age have been discovered and seem to have congregated around about 8 hectares of the east bank of the Soar above its confluence with the Trent, nothing is known about this community or the status of the River Soar at the time.
During their invasion of southern Britain, the Romans are thought to have landed in the Leicester region about AD 47. The Corieltauvian village was located at a bridge on the Fosse Way, which connected the legionary encampment of Isca (Exeter) and Lindum (Lincoln). It is unknown if the Romans fortified and garrisoned the site, but it gradually grew as the Corieltauvians' tribal capital under the name Ratae Corieltauvorum from roughly the year 50 onwards. It was given a forum and baths in the second century. In 2013, it was revealed that a Roman cemetery dating from AD 300 had been discovered just outside the old city walls.
The remnants of Roman Leicester's baths may be viewed at the Jewry Wall, and recovered objects can be shown at the nearby museum.
Following the Roman retreat from Britain, nothing is known about the settlement. Certainly, there is some continued habitation of the town in the 5th and 6th centuries, but on a considerably smaller scale. The Cair Lerion in the History of the Britons was named after it.  Following the Saxon conquest of Britain, the Middle Angles seized Leicester, which was later controlled by the kingdom of Mercia. In either 679 or 680, it was raised to a bishopric; this see lasted until the 9th century, when it was seized by Danish Vikings.
In the 1790s, the Grand Union Canal was built, connecting Leicester to London and Birmingham. The Leicester and Swannington Railway, which brought a supply of coal to the town from adjacent collieries, opened in 1832 as Leicester's first railway station. By 1840, the Midland Counties Railway had connected the town to the national network. The Midland Railway built a direct link to London St Pancras in the 1860s. These advances aided and abetted a trend of industrialization that accelerated during Queen Victoria's reign.
Factories started to pop up along the canal and river, and places like Frog Island and Woodgate were home to a slew of huge mills.
The connected urban area is also England's 11th most populated and the United Kingdom's 13th most populous.
Leicester lies at the crossroads of two main railway lines, the north–south Midland Main Line and the east–west Birmingham to London Stansted Cross-Country line, as well as the M1/M69 and A6/A46 trunk roadways. Leicester is the home of Leicester City Football Club and Leicester Tigers Rugby Club.
Frequently asked questions about transfers from Heathrow Airport to Leicester city
Q: Are your prices fixed to travel from Heathrow Airport to Leicester city?
A: Yes
Q: How long does it take by taxi from Heathrow Airport to Leicester city?
A: Journey duration from Heathrow Airport to Leicester city by road is about 2 hours 15 minutes.
Q: What is the distance between Heathrow Airport and Leicester city?
A: Distance between Heathrow Airport and London Leicester city is 117 miles
Q: Does your service operate 24/7 from Heathrow Airport and Leicester city?
A: Yes, we pick up passengers 24hours, 7 days from Heathrow Airport and Leicester city
Q: How can I book a transfer from Heathrow Airport and Leicester city?
A: A transfer can be booked from Heathrow Airport to Leicester city through our website or phone