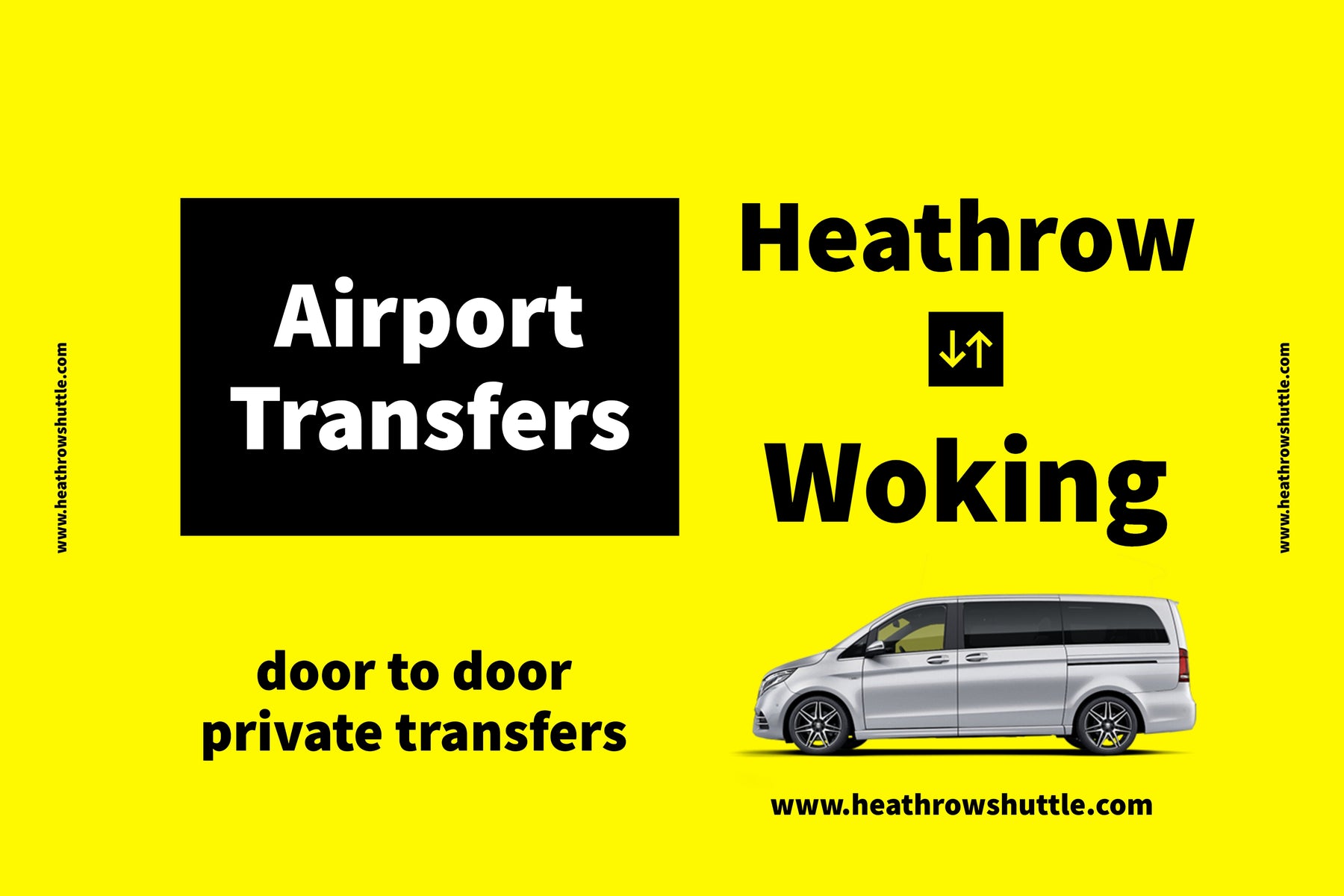 Heathrow Airport to Woking Transfers
Heathrow airport cab transfers are available 24 hours a day, seven days a week from London Heathrow Airport (LHR) to Woking.
For all your airport transportation needs to and from Woking locations, we provide the newest Mercedes Benz vehicles and minibuses.
One of the cheapest door-to-door chauffeur services to and from London Heathrow Airport is our executive class chauffeur driven service.
Heathrow airport to Woking Private Taxi / Chauffeur Transfer
Private Heathrow to Woking taxis, as well as transportation from Heathrow airport to Woking town - Fixed Price chauffeur driven door to door airport transfers.
Why book Heathrow to Woking Transfer with us?
Fixed Price – No hidden charges
Flight monitoring as Standard
Free Meet and Greet Services on arrivals
No additional charges for delayed flights
90 Minutes Waiting & Parking included
You can easily book a taxi from Heathrow to Woking with us. Prior to and after each travel, we guarantee that all of our cars will be properly cleaned and sanitised. Our drivers keep a social distance from each passenger while observing and monitoring COVID-19 indications, and we specialise in Heathrow airport transfers.
Our service allows you to book a taxi from Heathrow Airport to Woking in advance. We use a variety of vehicle models for our Heathrow-Woking taxi services. Our vehicles are of the finest quality, are completely insured, and have passenger service licences.
Airport Taxi Transfers between Heathrow and Woking
Woking is approximately 15 miles from Heathrow Airport, one of the busiest in the UK, making transportation from Heathrow to your Woking site quick and straightforward. You may also go to Heathrow airport from Woking without having to fight with traffic in central London, saving time and ensuring that you reach on time.
Your journey will be more comfortable and less stressful if you take a taxi from London Heathrow Airport (LHR). When you order a Heathrow to Woking taxi online or over the phone, you can select from a variety of pick-up locations as well as a Saloon Car, MPV, or 8-seater vehicle for your private, comfortable taxi trip. We will typically have the right vehicle for your party size, luggage, or special requirements, and we will always go out of our way to satisfy your demands.
Journey time from Heathrow to Woking
By car, the journey from Heathrow airport to Woking takes around 40 minutes. Choose the 'Greet and Greet' option when booking your cab from Heathrow to Woking, and our driver will meet you inside the airport arrivals lounge with your name-board. 
Journey Cost from Heathrow to Woking
When you plan your trip with Heathrow Shuttle Airport Transfer, you can count on low pricing, dependable service, and a pleasant ride. We are one of the most recognised airport shuttle transfer businesses in the United Kingdom, and our major goal is to assure our clients' safety and convenience. The majority of our customers are repeat clients who enjoy the benefits of discount packages as well as our consistent quality of service after more than two decades of operation.
Woking Overview
Woking is a town in the English county of Surrey. It is part of the London commuter belt and is located on the southern fringe of the Greater London Urban Area. Woking is 23 miles southwest of London's Buckingham Palace. Woking town, excluding the continuous built-up region that stretches from West End to West Byfleet.
Woking is referenced as the location of a monastery in an 8th-century context, as Wochingas, however its first recorded appearance is in the Domesday Book. It was owned by King William the Conqueror, Walter FitzOther, Constable of Windsor Castle, and Ansgot and Godfrey from Osbern FitzOsbern, then bishop of Exeter, in 1086, according to the Domesday Book.
The railway station, built in 1838 at the junction of the lines to London, the south coast, and the southwest of England, and the private railway to Brookwood Cemetery, which was developed by the London Necropolis Company as an overflow burial ground for London's dead, shaped modern Woking in the area to the south of the Basingstoke Canal (opened in 1794) around the railway station, built in 1838 at the junction of the lines to London, the south coast, and the southwest of England, and the As a result, the previous village on the River Wey, 1 mile to the southeast, became known as "Old Woking." Later, Woking Crematorium at St John's became the United Kingdom's first crematorium.
The Shah Jahan Mosque (also known as Woking Mosque) is the first purpose-built mosque in the United Kingdom, located on Oriental Road in Woking, England. It lies 30 miles (50 kilometres) southwest of London and was built in 1889. It's a Grade I listed structure.
FAQs - Woking Airport Transfers
Do you monitor arrival flights at Heathrow?
Yes – we always monitor your flight on the day of your arrival and our driver will park up 30 to 40 minutes after your flight arrival and will wait up to 90 minutes for free.
What happens if my flight is delayed at Heathrow?
We will simply adjust your pick-up time without any additional charges.
What happens if I am delayed inside Immigration?
Our driver will wait up to 90 minutes free of charge for you, however if you require longer time to clear please inform us on the number on your booking and we will keep our driver waiting for you longer.
Where are drop off points at Heathrow?
Heathrow Shuttle driver will drop you off at your departure terminal forecourt, close to departure terminal entrance and trolley area.
How far is Woking from London Heathrow Airport?
15 to 18 miles
Depending on the route we take distance between Heathrow and Woking town is around 15 to 18 miles.   
How Long it takes to Get to Woking from Heathrow Airport?
30 to 45 minutes
Depending on the time of the day and route we take, it will take around 30 to 45 minutes to travel between Heathrow and Woking Town Centre.