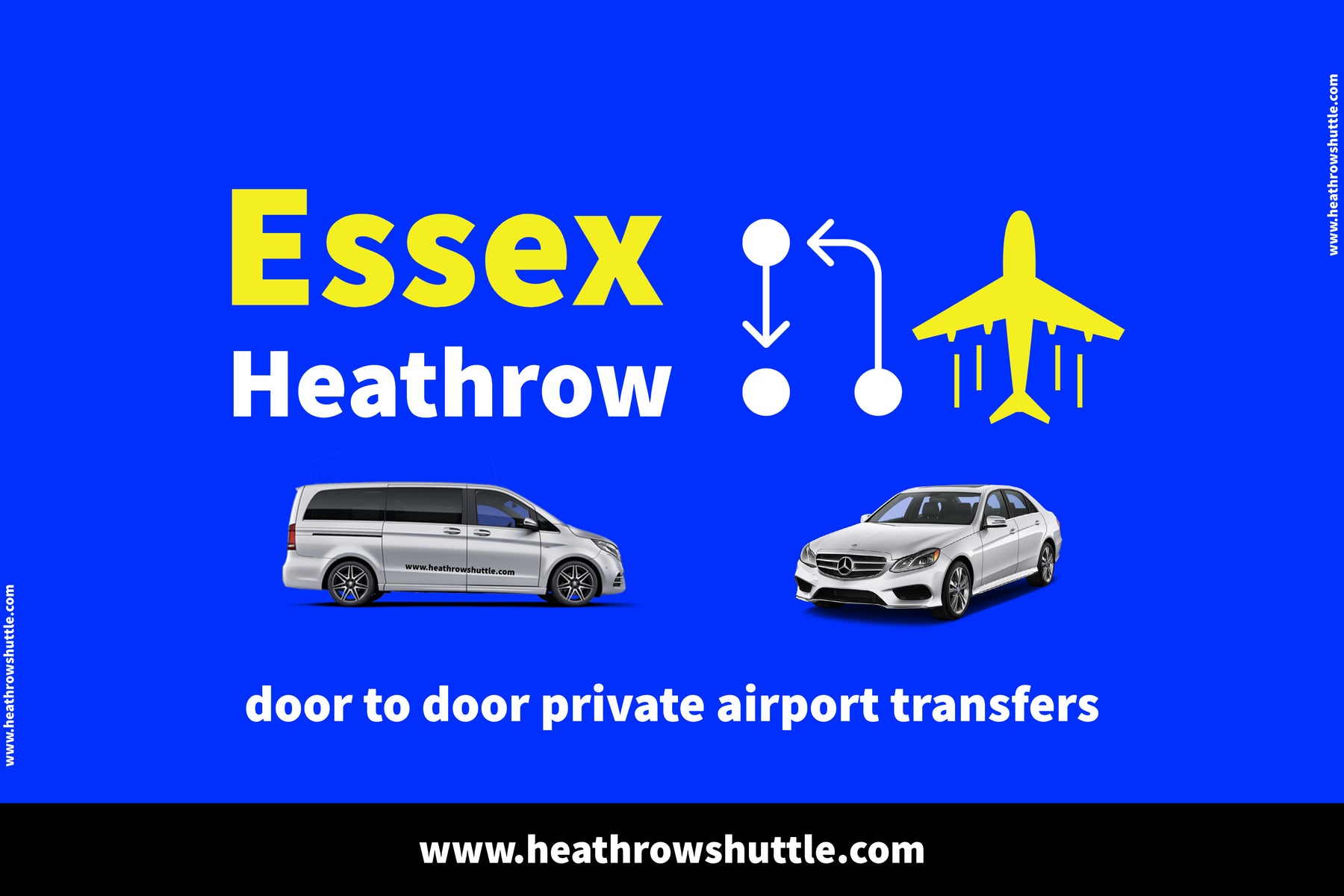 Essex to Heathrow Airport Transfer
Essex to Heathrow airport transfer by Heathrow Shuttle, door to door chauffeur services to and from Essex and London Heathrow airport. Essex private taxi services to London Heathrow (LHR).
Heathrow Shuttle provides a transfer service from Essex to any UK airport, whether you require a executive car, executive people carrier, 8 seater minibus, or luxury coach. If you're flying to or from Heathrow Airport, choose the kind of route from the drop-down menu to get a quick price. We guarantee that we will be there to greet you or transport you to your destination because all of our bookings are pre-paid and pre-booked.
Essex to Heathrow Airport Transfers
Essex to Heathrow airport transfer, On the day of your travel, our chauffeur will collect you in a pre-booked luxury Mercedes Benz car or minibus, our driver will help you with your luggage and loading and will drive you directly to London Heathrow airport and will drop you at your chosen terminal close to the entrance door.

Heathrow Airport to Essex Transfers
Low cost door to door chauffeur driven services for all your airport transfer needs from Heathrow to Essex 24 hours a day 7 days a week.
Free Flight Monitoring
Free Meet & Great Service on Arrivals
Fixed Prices – No hidden charges
No additional charge for delayed flights
Free 90 minutes waiting time after arrival.
We will monitor your flight on the day of your arrival at London Heathrow airport, and your driver will park 30 to 40 minutes after your flight has landed, where he will welcome you with your name-board inside the airport arrivals lounge. Your chauffeur driver will assist you with luggage and loading, then take you directly to your destination in Essex.
Essex to / from Heathrow Airport Transfer
Essex to Heathrow airport transfer 
Essex Overview
Essex is located between London and the North Sea in southeast England. Colchester is home to Roman ruins and the Norman-era Colchester Castle, which houses a museum. Orang-utans and white rhinos live in Colchester Zoo. The 18th-century Hylands House in Chelmsford is nestled in large parkland in the southwest. Saffron Walden, a historic market town to the north, is home to the Jacobean mansion Audley End House and Gardens.
Essex is defined by four different definitions, the most expansive of which is the ancient county. The ceremonial county is the next largest, followed by the former postal county, with the administrative county – the area administered by the County Council, excluding the two unitary authorities of Thurrock and Southend-on-Sea, as well as the areas administered by the Greater London Authority – being the smallest.