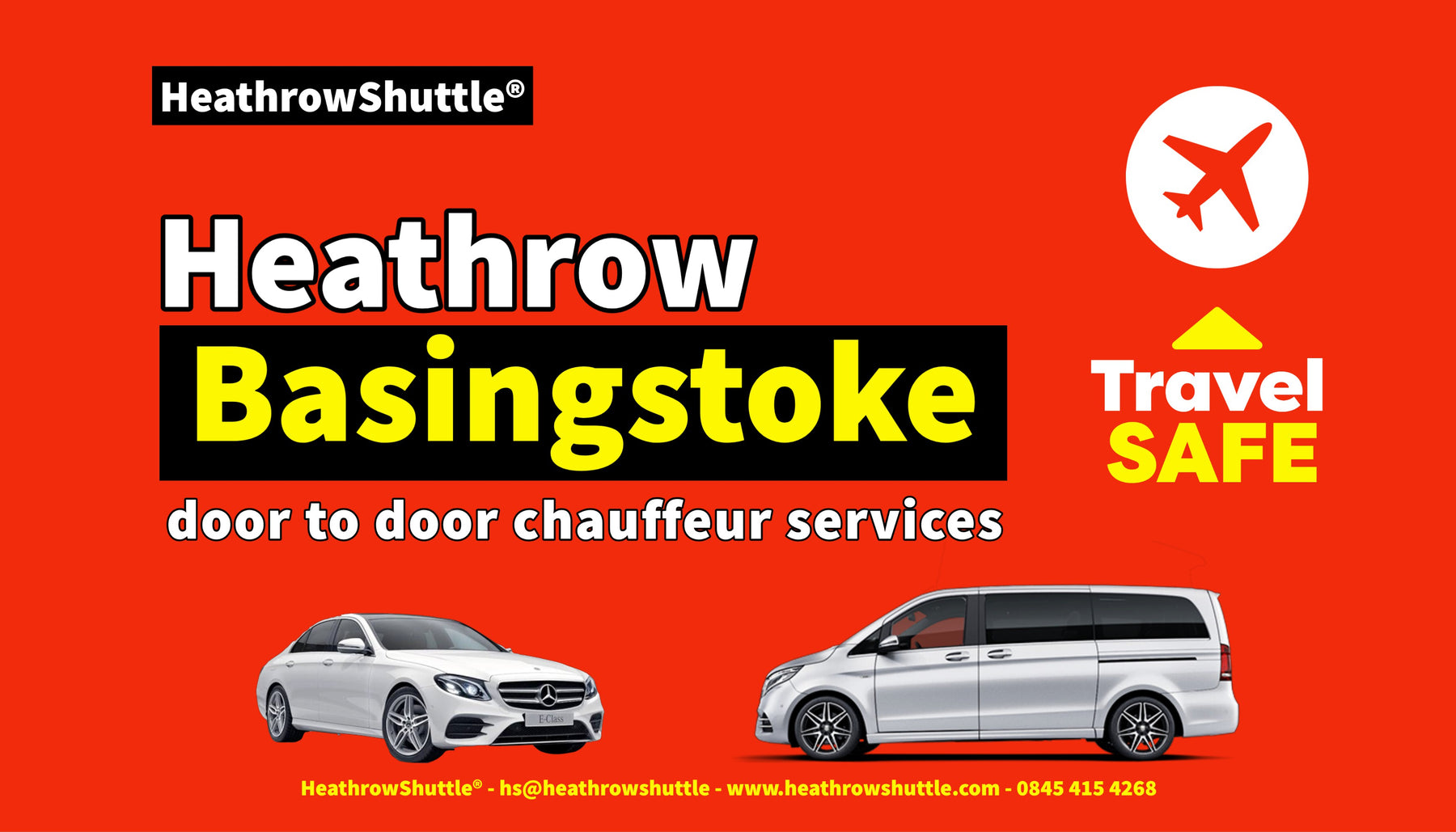 Airport Transfers Heathrow to Basingstoke
Airport Transfers Heathrow to Basingstoke, England. Get low cost door to door chauffeur driven private airport transfers from Basingstoke to London Heathrow airport (LHR).
Offering you latest Mercedes Benz Cars and Minibuses for all your private airport transfers needs to and from Basingstoke and surrounding areas 24 hours a day 7 days a week.
Flight monitoring included
No charge for delayed flights
90 minutes waiting time included
90 minutes parking included
Door to door private transfer
Luxury Mercedes Benz Vehicles
Heathrow Airport to Basingstoke Transfers
On the day of your arrival at London Heathrow Airport (LHR), we will track your flight on the day and your chauffeur will greet you inside the airport arrivals lounge with your name board 30 to 40 minutes after your flight landing. Your chauffeur will wait for you up to 90 minutes free of charge. If you flight is delayed on the day, don't worry we will simply adjust your pickup time without any additional charge.
Basingstoke to Heathrow Airport Transfers
On the day of your departure, your chauffeur will meet you at your selected pickup time in front of your chosen pick up location, our chauffeur will assist you with your luggage and will drive you directly to London Heathrow airport. Our chauffeur will drop you right outside your chosen departure terminal close to trolley area for easy access to departure terminal.
Group Transfers Specialist
We specialise in providing chauffeur driven door to door airport transfers for small to medium size group transfers to and from London Heathrow Airport. Being the oldest and largest airport shuttle firm in London we can ensure you that your airport transfer to and from the airport will be completely hassle free.
Basingstoke
Basingstoke, despite its business success, boasts a diverse range of cultural and history sites. Jane Austen was born in neighboring Steventon, where she penned her early novels, and the Borough of Basingstoke and Deane has nearly 1800 listed buildings. Basingstoke and the surrounding towns and villages make this part of north Hampshire ideal for a pleasant short break.
Things to do and see in and around Basingstoke
Basingstoke is now one of Hampshire's most successful and dynamic towns.
Visitor attractions in the Basingstoke area
Basingstoke has a diverse range of tourist attractions, including shops, restaurants, and bars. With over 200 retailers and 31 restaurants, the Festival Place Shopping Centre is the go-to spot for most shopaholics.
Atmosphere and Flip Out are both trampoline parks in Basingstoke if you're searching for something fun and energetic.
Explore the ruins and gardens of Basing House, which was once England's greatest private residence. The earthworks of a mediaeval fortress, which predates the house, can still be seen today.
The Willis Museum on Market Place houses ancient artefacts as well as contemporary artwork.
Visit The Vyne, a 16th-century mansion with a rich history; famous author Jane Austen frequented the property for dances throughout her lifetime.
The Milestones Museum is a living history museum comprised of a network of streets that depict the Victorian era and 1930s Hampshire.
Basingstoke is a town in the county of Hampshire. The Milestones Museum is a living history museum with antique automobiles and a candy store from the 1940s. The Willis Museum's exhibits span the town's history from the Iron Age to the present day, while the Sainsbury Gallery showcases local and touring art shows. Basing House is a destroyed Tudor manor to the east. The Vyne, located north of town, is a Tudor palace with a 16th-century church.
Basingstoke is mentioned in the Domesday Book as a weekly market site in 1086, and has hosted a weekly (every Wednesday) market since 1214. The town hosted a large number of Parliamentarians during the Civil War and the siege of Basing House between 1643 and 1645. During this time, St. Michael's Church was damaged while being used as an explosive store, and the roof of the Chapel of the Holy Ghost in Basingstoke was stripped of lead, resulting to its final demise. It had been incorporated in 1524, but following the Civil War, it was effectively out of service. The big fires of 1601 and 1656 severely damaged most of the town and its churches in the 17th century.